Our Accreditations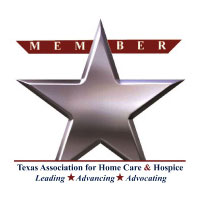 Direct Health Care is a licensed agency that provides the Lubbock area with quality home health care. Direct Health Care aims to continuously exceed the expectations of our clients, and to help them live as independently as possible. 
Direct Health Care Licenses
When you select Direct Health Care, do so with complete confidence. We are a licensed and certified agency offering specialized attention and services to the individuals and families that we serve. We are proud to say that our Texas licenses, accreditations and memberships include:
Licensed and Certified Home Health
Licensed Home Health
Texas Department of Aging and Disability Services – The Texas Department of Aging and Disability Services works tirelessly to "provide a comprehensive array of aging and disability services, supports and opportunities that are easily accessed in local communities." DADS believes, as does Direct Health Care, that all elderly Texans and disabled individuals deserve a "comprehensive and cost-effective service delivery system that promotes and enhances individual well-being, dignity and choice."
Covenant Health Systems Hearts to Home Partner – Covenant Health Systems is one of the largest healthcare providers in the area. Their vision is to "bring people together to provide compassionate care, promote health improvement and create healthy communities." Respect and dignity for every patient is at the cornerstone of Covenant Health Systems philosophy.
University Medical Center Community Coalition Partner – Located in Lubbock, the University Medical Center "is the leader in comprehensive healthcare delivery in West Texas and Eastern New Mexico." UMC provides the highest quality care to patients with a large range of services, including home healthcare.
HealthCare Elite
Lubbock Heart Hospital Red Program Partner – The Lubbock Heart Hospital is a facility that provides healthcare focused on the patient. This renowned hospital is "one of the top rated hospitals in the nation in terms of quality care and satisfaction." Additionally, Lubbock Heart Hospital is rated highly on according to the Medicare and Medicaid Services core measures.
In addition to the the partnerships and licenses listed above, Direct Health Care is also an honored member of the Texas Association for Home Care and Hospice. The Texas Association for Home Care and Hospice is "a strong unified voice for the interests of home care throughout the state of Texas." Currently there are over 1,500 members partnered with the Texas Association for Home Care and Hospice.
The Patient's Choice
Direct Health Care is the patient's choice for home health care and hospice for residents of the Lubbock area. We take great pride in our services and have partnered with amazing organizations and businesses, both at the state and local level. Our memberships and partnerships help us to be continually improving ourselves as a provider as well as ensuring we are using the most up-to-date protocols.
Our mission is to provide a quality staff to care for you, your loved ones and members of the Lubbock community. The licenses we hold help us to give our patients the highest level of care, comfort, health, independence and happiness possible.
From Our Family to Yours
Direct Health Care is a locally owned family business in Lubbock. Our caring and compassionate staff understands that all individuals have a right to a healthy, independent life and we strive to provide that for each patient with whom we work.
Allow us to care for you, your loved one or your community for quality home health care.